Talstrasse 33
​CH-​8808 Pfäffikon SZ
​Tel. 055 422 1414
​​info@paradisimo.ch
​www.paradisimo.ch
PARADISIMO NIGHT FUN
Samstag, 09.12.2017

Während Sie einen freien Abend mit Ihrem Partner oder Freunden verbringen, kann Ihr Kind im Alter von 5-12 Jahren im Paradisimo eine Kindernacht mit lustigen Spielstunden in Kombination mit einem tollen Unterhaltungsprogramm geniessen.

Der Kinderspass findet von 18:30 Uhr bis 24 Uhr statt.
​
Im Preis inbegriffen sind Abendessen (Pasta, Sirup und Wasser und ein Eis) und ein tolles Unterhaltungsprogramm.

Was jedes Kind zum Paradisimo Night Fun mitbringen sollte: Pyjamas, liebsten Teddybär, Zahnbürste, Zahnpasta und Schlafsack.



Preis: Fr. 60 pro Kind (Fr. 20 für jedes Geschwisterteil)



Bitte reservieren Sie spätestens 7 Tage im Voraus.

​​Bitte füllen Sie das Reservationsformular unten aus.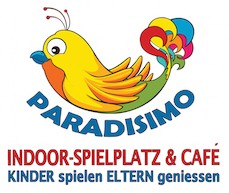 PARADISIMO NIGHT FUN
Saturday, 09.12.2017

Enjoy a free evening with your husband or friends while your 5 to 12 years old aged child also enjoys a children's night with hours of animated play in Paradisimo in combination with a fun-filled entertainment program.

All this fun is from 6.30pm to midnight.

​
Included in the price are: dinner (Pasta​, syrup or water, and one ice cream) and a fun-filled entertainment program.

What each kid should bring to a Paradisimo Night Fun: pajamas, favorite teddy bear, toothbrush, toothpaste and sleeping bag and pillow.

Price: Fr. 60 per child (Fr. 20 for each sibling)

Reservation is required latest 7 days in advance.

​​Please fill out our form below.